VGS Blending Kit & Masterclass
VGS Blending Kit & Masterclass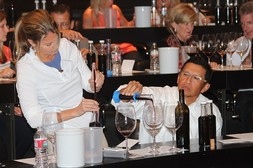 Master the art of wine blending & make your very own wine!
Each year we host the very popular VGS Winemaker Weekend, an immersion class where attendees learn how to blend their own wine, then bottle a case with their name on it.
Given our current situation, we have re-imagined and re-created this experience for you and are excited to offer THE MOST EXCITING Virtual Masterclass available online!
Live Zoom Masterclass with Jean-Noel
and the VGS Winemaking Team

Saturday April 2, 2022
12 noon- 3 pm PT
*limited to first 50
We will ship in advance your very own wine blending kit complete with all the tools you will need including:
One full size (750 ml) bottle of our exciting 2021 Cabernet Sauvignon, and three half-bottles (375 ml) of each the Petit Verdot, Malbec and Petite Sirah-straight from barrel!
Pipettes, Graduated Cylinders, Beakers
Tasting notes and blending sheets
VGS Logo'd Apron
If you love your blend, you will have the opportunity post Masterclass to have the winery bottle your very own wine, with your personalized label on it!