Winemaker Weekend 2018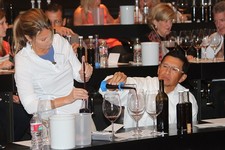 Join Jean-Noel and the VGS Winemaking team for an unforgettable weekend, as we introduce you to the world of wine blending. We will guide you in creating your "perfect" blend from barrel samples of Cabernet Sauvignon, Cabernet Franc, Merlot and Petit Verdot.
FRIDAY, OCTOBER 19th

6:00 – 9:00 PM: Welcome Reception and Dinner
Join us at the Tasting House & Garden in St. Helena for a relaxed evening of great food and wine as we get to know each other while enjoying Library Wines and current releases in preparation for the big blending day!
SATURDAY, OCTOBER 20th
9:30 AM – 1:00 PM: Blending Experience
Jean-Noel will instruct you about the characteristics and flavor profiles of each varietal: Cabernet Sauvignon, Cabernet Franc, Merlot and Syrah. Through a blending demonstration, you will see how each varietal affects the other ones, how they each can be part of a blend and in what manner they can contribute to the blend you want to create. Through the artistry of blending, we will show you where the science stops and the art begins! Then Jean-Noel and Matthew will humbly become your assistant winemakers. With pipettes, graduated tubes, bottles and glasses in hand, you will discover what best suits your own palate and craft your own wine! How fun is that?
1:30 – 2:30 PM: Wine Country Lunch
We will take a much needed break from blending and enjoy a delicious lunch paired with VGS wines
7:00 PM: Winemaker's Dinner at LaToque Restaurant
Join us at the Michelin rated La Toque restaurant to celebrate all your hard work. Canapes and Champagne will be served on the private patio followed by a five-course dinner Chef Ken Frank and his team have designed to accompany the VGS wines.
SUNDAY, OCTOBER 21st
10:30 AM – Noon: Sunday Brunch
Your winemaking weekend will conclude with a leisurely brunch at the Tasting House & Garden in St. Helena. Enjoy a leisurely morning with more amazing food and wine before we bid you farewell.
Details: $2,950/couple for this fantastic experience including 12 bottles of your personal 2016 red wine, labeled with your name. Wine will be bottled in June 2018. Accommodations and transportation not included. Payment is transferable but not refundable.
50% non-refundable deposit due at the time of booking.
LIMITED to 20 couples!

To reserve your spot for this unique experience, please contact:
Matthew Regan at (707) 255-9440 x 4
or at matthew@chateaupotelle.com
We look forward to not only sharing great food and wine
but also creating lasting memories with you that weekend!