Winemaker Weekend 2018-deposit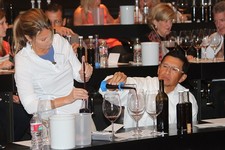 VGS WINEMAKER WEEKEND
March 9-11th or October 19-21st
MAKE YOUR OWN WINE!
Join us for an unforgettable weekend in the Napa Valley and allow us to educate
you on the art of winemaking.
Blend the refined elegance of Bordeaux with the charm, opulence and exuberance of the Napa Valley.
Allow us to guide you and help you blend your own wine!
You will blend your own personal case (12 bottles) of 2016 Napa Valley Red Wine etched your own name on it!
Itinerary

Friday
WELCOME RECEPTION
Join us for a fun evening of library wines, fine food and great camradarie.
Saturday
BLENDING EXPERIENCE-morning session
A comprehensive day of barrel tastings followed by a blending seminar.
We will walk you through the process and philsophy of making great Napa Valley wines and then
"let you loose" to create your own wine.
LUNCH
A deliciuous seated 3 course wine country lunch paired with VGS wines
BLENDING EXPERIENCE-afternoon session
After a wonderful meal, we will work contine to blend and then fine tune your final blend.
This will be followed by a fun comparative tasting of your fellow winemakers blends.
DINNER
The celebration of your work we will toast your new winemakers with Champagne followed by a dinner to remember at the famed Michelin starred La Toque Restaurant. Chef Ken Frank and his talented team
will create a memorable multi-course dinner for us paired with the VGS wines.
Sunday
FAREWELL SUNDAY BRUNCH
Your winemaking weekend will conclude with a leisurely wine country brunch as we share another meal and our memories created over the weekend.

$2950 per couple
50% Non-Refundable deposit due at time of booking
Payment is transferrable but non refundable
Balance due will be charged one month in advance of event